How One Gift Begat Another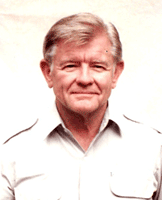 In 1996 Harry Dawley '55 was introduced to a way that he could match his interest in making long term commitments to The Citadel with his personal retirement and estate planning. The option he chose was to fund his first Charitable Gift Annuity (CGA).
HARRY - "The Charitable Gift Annuity furnished me a way to use appreciated assets to fund an Annuity that guarantees me a stable and secure retirement income while giving me the satisfaction of knowing the funds will ultimately go to support worthwhile programs at The Citadel."
During the last years of his corporate career Harry assumed the added responsibility for the company's Foundation and Community outreach activities. Then after retiring in 1988, he continued his personal involvement in community volunteer activities and, during this period, he began investigating how he might encourage and support volunteerism within the South Carolina Corp of Cadets. After discussions with officials at The Citadel, he established and funded the Dawley Community Service Scholarship, which recognizes each year a cadet who has shown an outstanding commitment to volunteer service in The Citadel community.
HARRY - "I have now added three additional Charitable Gift Annuities to my portfolio and, with the current condition of the market, I may add more. I don't see where I can make a better investment of funds that I intend to pass to The Citadel. I am very pleased with the initial success of the Community Service Scholarship and would like to see it grow in the future. I truly feel that my time at The Citadel contributed greatly to any success that I have enjoyed in the military, business and life in general, and now I am pleased to have the opportunity to give a little back.