Remembering a Loved One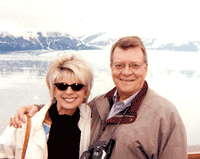 Connie Logan had not yet met her future husband Lamar Logan '63 when he attended The Citadel, but she came to know his alma mater during the course of their marriage, through both his reminiscences and visits to campus with him. When Lamar passed away Connie knew immediately that she would make some gift to The Citadel in his memory.
CONNIE: "Lamar many times related to me how his education at the Citadel had helped him in so many ways in his life. He believed that he learned his discipline, his work habits and leadership qualities at the Citadel."
As Connie worked with her financial advisors to settle Lamar's estate she learned of the potential tax burden facing her, in significant part because Lamar had been a successful business owner. When she shared with them her interest in making some contribution to honor Lamar they were happy to show her how to offset the tax burden through charitable gift planning. Connie benefited financially and made a special loving gesture as well; her generous gift established The Lamar Logan Scholarship at The Citadel.
CONNIE: "I believe Lamar would be proud to have his name in this way associated with the Citadel. Of course I believe this is the best way for me to honor such a wonderful man."
Expressions of Philanthropy
Planning for business succession, retirement, and one's estate, presents special considerations for the private business owner. For those who are also charitably motivated, significant opportunities are available to both reduce the burden of taxation and to become a philanthropist. You should consult with your own advisors as well as with The Citadel Foundation as you explore this beneficial relationship.