Gift and Sale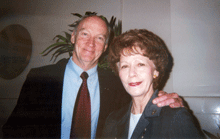 Rudolph C. (Rudy) Barnes, Jr. '64 and his wife Jeanette have long been dependable annual donors to The Citadel. But when they decided to sell a house they jointly owned it occurred to them that they had an opportunity to make the larger gift they had long discussed, and establish a program dear to Rudy's heart.
Rather than sell the house, then make a cash gift to The Citadel Foundation, they instead transferred a percentage of ownership in the property to The Citadel Foundation prior to the sale. Once the house sold, both the Barneses and The Citadel Foundation enjoyed their respective shares of the sales proceeds. Rudy and Jeanette additionally enjoyed an immediate income tax charitable deduction and avoided significant tax on capital gain on the portion of the house they gave prior to the sale.
More important, they were able to designate their gift to establish the Rudolph C. Barnes Jr. Fund for Excellence in Military Legitimacy. The annual proceeds from this endowed fund will be used by the School of Humanities and Social Sciences to explore the balance between might and right in military operations. The Barneses are delighted to have established this important fund.
RUDY: "The seeds planted in me at The Citadel grew and flourished during my career as a military attorney in the U. S. Army, where I had the opportunity to examine the legal and moral issues that determine military legitimacy. I always felt a need to re-sow those seeds and share the lessons learned at The Citadel. The pending sale of our house gave us just the chance we had been looking for."