Deferred Gift Annuity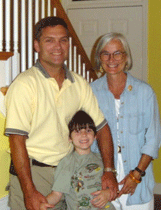 It was quickly apparent that cadet Fred Whittle '80 was a forward-thinking individual from the time he arrived on campus in 1976. A solid student and leader, Fred rose steadily through the ranks of the South Carolina Corps of Cadets to serve as the Cadet Regimental Commander during his senior year. His thoughtfulness has remained as dependable as has his leadership.
In 1994, Fred Whittle started a Deferred Charitable Gift Annuity (DCGA) so that he and his wife, Susan, would have a life income supplement to add to their retirement income. Their DCGA gave the Whittles an income tax deduction in the year of their gift, and part of the income, once they begin to enjoy it, will also be a tax free return of principal. However, the tax benefits and the life income stream were not the only reasons he and Susan made a deferred CGA. Fred wanted to leave a gift to his alma mater.
FRED: "The Citadel taught me perseverance in the face of adversity. The Fourth Class System, the Honor Code, and leading peers all helped me to be forthright and to meet a challenge head on. They taught me the value of being truthful, especially when it is painful to be so. Lastly, I learned the importance of being organized in order to process multiple tasks concurrently."
Fred decided to give to his alma mater using more than one deferred gift vehicle. According to Fred, "Our gift of a life insurance policy, a bequest in our last will and testament, and our deferred CGA all look to the future with hope for The Citadel."
Fred and Susan wanted to leave a lasting impact with their charitable gifts. "We hope that Citadel cadets will not only benefit from some financial relief or better academic programs and faculty development, but that The Citadel's philanthropic culture will change radically. Cadets, alumni, and the entire Citadel Family should set the standard for excellence in institutional support through our academic support foundation."
Fred had some fine advice for all future cadets. "Dedicate yourself completely to your studies and cadet life. It passes much too quickly. Get involved in cadet activities around the campus. Use your talents to serve the corps of cadets and the Charleston community."