Carrying on the Tradition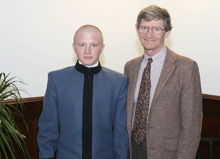 As J. Frank Swygert '59 proudly recognizes, "The Citadel has always excelled at producing top-notch leaders" in all disciplines for both military and civilian service. "To maintain this tradition, and to remain competitive with the service academies and other colleges, we absolutely must be able to attract the top recruits, especially those who feel called to serve but might otherwise not be able to afford the tuition here."
This simple motivation led to Frank's decision to include in his estate plan a bequest that will establish two valuable scholarship funds - The Swygert Armed Forces Scholarship at The Citadel Foundation, and the John F. Swygert '35 Scholarship at The Citadel Brigadier Foundation, named in honor of his father. Frank is yet another Citadel alumnus who recognizes the value of both the academic and athletic experience offered at The Citadel and who has chosen to support both aspects of The Citadel experience for deserving cadets.
FRANK: "The Citadel experience has contributed significantly to both my military and civilian careers . . . I can't imagine that I'd have had the success I did without that experience, training, and discipline to make these efforts work."
One portion of his bequest will establish the Swygert Armed Forces Scholarship and will be designated to cadets under U. S. Army contract who still have financial need to cover the costs of their Citadel education. Frank observed "In today's challenging times it is ever more important to identify and assist those young people eager to make the commitment to serve their country, regardless of their financial ability."
The balance of the bequest that will establish the John F. Swygert '35 Scholarship for varsity athletes who are also under military contract.
FRANK: "Being a graduate of The Citadel gives you an edge that you can capitalize on, an advantage that is recognized universally. I hope that, in future years, the scholarship funds will enable The Citadel to keep this competitive edge."
PHOTO: Frank Swygert with cadet Tyler Sim, 2006-2007 recipient of the J Frank Swygert Class of 1959 Scholarship. Frank established this athletic scholarship in 1994 with a cash gift to The Citadel Brigadier Foundation.
---
Click here for The Citadel Foundation's Bequest Language